website and menu
On our search for the best restaurants in
Austin, we found a wonderful little bakery/cafe/gelato shop in Northwest Austin on Far West Blvd.  Kneaded Pleasures has been an Austin food hot spot for some time now.  Whether you're looking for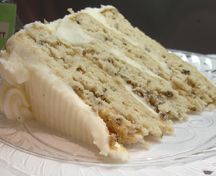 breakfast, lunch or dinner...  This place seems to have it all.  During our visit we tried a little bit of everything.
Normally, we write about some of our favorite foods in restaurants all over town.  But at Kneaded Pleasures, we have to just tell you to make multiple trips there and try everything on the menu.  You're gonna love everything you try at this place.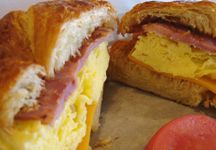 Their breakfast sampler...  (this is our kind of dish)  plenty of food, a little bit of everything.  It comes with eggs, ham, bacon, sausage...  Sounds like plenty right?  But there's also pancakes and potatoes at very reasonable price.  Come hungry, no kidding.  If you're looking for more of a quick breakfast sandwich...  There's almost nothing better than a
delicious breakfast sandwich on a hot, fresh croissant.
Here you'll also find a number of tempting sandwiches and a GREAT burger.  That is the name of it... Great Burger with French Fries.  The name says it all.
For any of you who are looking to eat lunch or dinner on the lighter side...  Kneaded Pleasures serves up generous salads like their Chef Salad or their Southwest Chicken Salad.  The latter is
prepared with spicy grilled chicken, lots of greenery, corn-black bean relish, cilantro and their tasty poblano ranch dressing.
This is a popular place so don't be shocked when you walk in and find a crowd of hungry people ahead of you.  It makes sense, people are coming to Kneaded Pleasures for a significant selection of specialty coffees, breakfasts, sandwiches, burgers, soups, salads, quiche, baked goods and of course their smooth, creamy and super delicious gelato.
Oh my...  The gelato is a must!  Do not leave this restaurant without trying it.  Very smooth and creamy, we loved every flavor we tried.  Their secret?  This stuff doesn't come from a package.  It's made from scratch and the proof is in the pudding.  (err, gelato)
We HIGHLY recommend Kneaded Pleasures to anybody who loves food.  Check it out for yourself and let us know what you think.  We would love to hear from you.  
Kneaded Pleasures Bakery & Cafe

3573 Far West Blvd
Austin, Texas 78731
(512) 527-0699
map

Categories:
American, Northwest Austin

website and menu
Hours:
Mon - Fri
6am to 9pm Sat - Sun 7am to 9am

Price Range:
$5 - $8

Drinks:
No

Live Music:
No
Patio Dining:
No

Gluten Free Menu:
No

Buffet:
No

Delivery:
Yes

Catering:
Yes