La Margarita

1530 N IH-35
Round Rock, TX 78681
(512) 388-1103
map

Website & Menu

Categories:
Mexican Restaurants,
Round Rock Restaurants
Hours:
Mon-Thu 11a-10p, Fri 11a-11p,
Sat 9a-11p, and Sun 9a-10p.Breakfast is served on Saturday and Sunday only.

Price Range:
$6 - $11

Drinks:
Full Bar
Live Music:
Thursday Nights

Patio Dining:
Yes

Gluten Free Menu:
by request

Buffet:
No

Delivery:
No

If you're having Mexican food in Round Rock or anywhere nearby... You're gonna want to try La Margarita. This is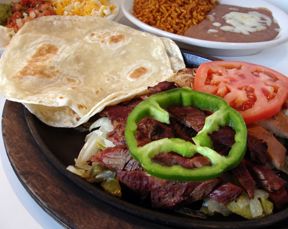 a large, locally owned Mexican restaurant located on I-35 in Round Rock just north of Hwy 79 (West Palm Valley Blvd), on the south bound access road.
La Margarita offers everything one could want from a Mexican Restaurant. Large enough dining rooms to accomodate groups, a full bar, plus great food and atmosphere. If you
work at Dell in Round Rock, this place is close enough and fast enough to fill your lunch needs. We have been fans for awhile.
One recommendation to the masses... Grab the fajitas and a frosty Margarita. The combo fajita plate with beef and chicken is fantastic. The meat has a very appealing smoky flavor that goes very well with their tortillas made in house. In fact the first thing you see when you walk in the place is the tortilla station. You will immediately take note of the aromas, then you'll be anticipating that first bite.
We also loved the Enchilada de Crema. This dish, made with La Margarita's Mexican rice and beans makes a very nice presentation. Then the gooey melted Monterey Jack cheese and sour cream over moist, tender chicken breast enchilada layered with their heavenly sour cream sauce and will certainly leave you with a strong desire to come back again.
There are lots of great dishes to talk about here, but let us just leave you with one more recommendation. Save a little room for the sopapillas. We won't name, names but... As kids growing up in Austin, our parents would take us to certain Mexican food joints that served these. (Just because they served them.) If you're a first timer with a sopapilla,
make sure that you make a hole in it, then use the honey to your liking. Mmmm-mmmm.
We would highly recommend La Margarita. We believe this is one of those restaurants that could easily start popping up all over Austin. Until then, we would suggest making the trip from wherever you might live around town, to give this one a try. Enjoy.