website and menu
If you have explored Austin very much at all, then you've most likely seen a Maudie's Tex Mex restaurant on
your way. That's because good Tex Mex food, plus reasonable prices, equals a successful dining spot that has been duplicated all over town.
Old timer Austinites might remember the original Maudie's Cafe off of Lake Austin Blvd. from way back in the 50's. The current owner ended up buying it during a chance encounter with the previous owner, who had already established a loyal customer base. The restaurant was then changed to Tex Mex. The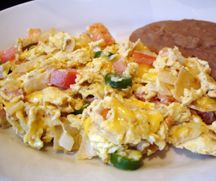 customers kept coming and today Maudie's is as much a part of Austin as anybody.
Whether you're looking for breakfast, lunch or dinner; this restaurant has got it covered. For instance start your morning with their delicious Migas Con Queso. Mexican style scrambled eggs with corn tortilla chips, serranos, tomatoes and more topped with queso amarillo and served with refried beans.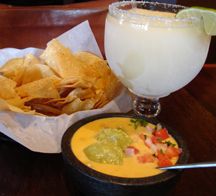 Of course you expect to get chips and salsa any time you walk into a Mexican restaurant. We've even noticed other types of restaurants adopting this tradition lately. We suggest you take it up a notch and order the Diablo Sol Food, or as they say... "Queso with an attitude." It's loaded with melted cheese, fresh pico de gallo, beef, garlic, onions and peppers. This is one of our favorites.
We would also like to recommend the enchiladas and fajitas at Maudie's. Speaking from the experience of having tried enchiladas at numerous restaurants all over Austin, these rank right up there with the best of them. Plus the fajitas are fantastic. We always appreciate a hot, tender and juicy fajita plate. We particularly love when the peppers include yellow, orange or red peppers.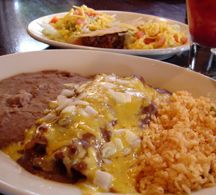 Maudie's Café off
Lake Austin Blvd.
2608 W. 7th
Austin, TX 78703
512-473-3740

Maudie's Too
1212 S. Lamar
Austin, TX 78704
512-440-8088

As usual, we suggest you go and try for yourself. You may need a few visits to confirm all of our recommendations, but we believe you will enjoy that. Don't forget to order the Margaritas!

Maudie's North Lamar
10205 N. Lamar
Austin, TX 78753
512-832-0900

Maudie's Hacienda
9911 Brodie Lane
Austin, TX 78748
512-280-8700

Maudie's Milagro
Davenport Village
3801 N. Cap of TX Hwy
Austin, TX 78746
512-306-8080