website and menu
Looking for some
place to eat in downtown Austin
? While you're out on the town, enjoying Austin's famous 6th Street attractions, check out Mekong River Thai and Vietnamese Restaurant. It's located right on 6th Street and is a great place to eat.
Mekong River has that rustic downtown Austin flare and serves Vermicelli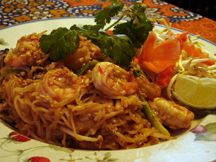 Bowls, Rice Plates, Vegetarian dishes, Noodles, Curry dishes and Pho (Vietnamese Noodle Soups). You'll love the feel of this restaurant with the high ceilings and its decor. But what you'll really love is the food.
One of the Thai classics is Pad Thai and Mekong River's Pad Thai with shrimp was a hit with us. Wok-tossed rice noodles combined with bean sprouts, scallions, egg, ground roasted
peanuts and of course the shrimp. Typically on dishes like this you will get all of the elements on the dish but they're not mixed together. Make sure you mix it all together to enjoy the full benefit.
Our favorite on this visit was the Pad Krapao which allows you to choose from beef, chicken or tofu. We had the chicken stir fried with red peppers, mushrooms, garlic, fresh basil, and that wonderful Thai chili. This dish is a Mekong River heavy hitter in the flavor department.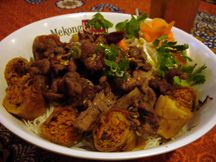 The Vermicelli bowl is nothing short of an absolute feast. And the price is very affordable. If you're in Austin on business or just partying on Sixth Street. We highly recommend that you give this one a try. It's a great
Asian Restaurant in Austin
that keeps the Austin flavor. Enjoy.
Mekong River
215 East 6th Street
Austin, TX 78701
512.236.8878

Hours:
Mon-Thur: 10:30a to 10p
Fri-Sat: 10:30a to 11p
Sun: 10:30a to10p