website and menu
At some point it seems that we all have a need for fast food.  Usually that means compromising on the types of food we consume.  Well here's a fast food alternative that's convenient and healthy.  Pita Fusion in Round Rock previously named The Pita Factory.  It's just across the toll road from Dell and offers a quick, delicious bite for hungry people on the go.
Brothers Nick and Tim Calandro who owned a Pita restaurant out of state, had been to Austin on multiple occassions to visit a friend who encouraged them to relocate.  And just a short time later they are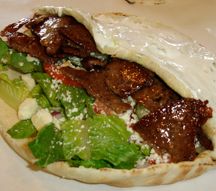 here, knockin' the socks off of their customers with pitas jam packed with goodness.
Pita Fusion is a small strip mall restaurant with just a few tables and lots of pita fans jumping in line to get some.  Whether you're a vegetarian, meat-atarian or just looking for something a little healthier than regular fast food...  this place has something to suit you.  Like their Greek Salad, or any number of pita combinations incorporating beef, chicken, ham, turkey or even Falafel.
Speaking of which, the Falafel makes a great "Veggie-Head" choice.  It's made with chickpeas, the usual veggies to compliment, and The Pita Factory's own sauce creation the "Holy Falafel" sauce.  The pitas are 8" in diameter and come in choices of white or wheat.  They only use daily fresh pita bread with natural ingredients that are naturally fat free and low carb.
Pita Fusion also offers the "Mean Green" sauce.  Their version of a jalapeno ranch sauce that compliments just about any pita you might order here.  (good stuff!)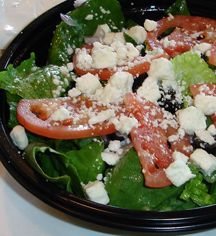 And it's easy to build a fantastic pita.  You walk along the counter telling the person behind the counter which fresh ingredients to include, and which sauces to cover it with.  When it's all finished, you'll have a full meal in a pita and walk away satisfied.
One of our favorites...  the Philly Cheasesteak!  And we're not alone, according to Nick and Tim this happens to be about the most popular item on the menu.  Another top pick was the Chicken Caesar.  And the great part of it is...  you can order it up the way it was intended for a quick order, or choose exactly which ingredients you would like to make your own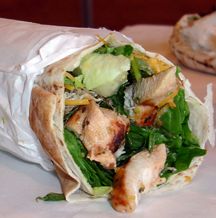 version of their already popular picks.
You'll pick the sandwich, then add some of their "unlimited toppings" like lettuce, spinach, tomato, cucumber, mushrooms, jalapeno, cheddar, provolone, feta and more.  Then pick a sauce or spread like Tzatziki, mayo, mustard, ranch, caesar, and even mango habenero or rasberry chipotle.  <----  we love those sauces
Their motto is "Quality Food, Fast!"  Drop in and check it out... you may just become a pita fanatic.
Pita Fusion
661 Louis Henna Blvd.
Round Rock, TX 78664
512-388-Pita (7482)
Hours:
Mon-Sat 11am-10pm  Sun 11am-5pm