Here's another fantastic Austin restaurant...  Thai Passion.  Chances are that if you've had Thai food anywhere in Austin, there has been some influence or association with Gene Kabboon. 
Gene owns the classy Thai Passion restaurants in South Austin, North Austin and of course Downtown Austin.  These restaurants provide a comfortable atmosphere filled with his own art and Thai cuisine at it's finest.
Gene's passion for Thai food is translated into each and every culinary creation found at Thai Passion to fulfill his goal...  for his restaurant to be a place of calm that always offers great food, wonderful service, and allows every customer to leave feeling happy and satisfied.  As far as we are concerned he has already accomplished that.
Sometimes the restaurants we write articles about provide us with appetizers before the entrees that will knock you socks off.  Such is the case with Thai Passion's Rice Balls.  Honestly, we could recommend that you make special trips to this restaurant and order multiple plates of this one.  It's fried jasmine rice mixed with red curry, lime leaf and coconut.  Served with chili and plum sauce.  YOU GOTTA TRY THIS!  We absolutely love it.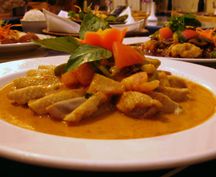 Wanna get out of your comfort zone a bit?  Drop the chicken, beef and other regular protein choices for a moment and try Thai Passion's Duck Curry.  Delighfully roasted duck breast topped with red curry, pineapple, tomatoes, bell peppers, and basil in coconut milk.  We don't order duck very often, okay pretty much never.  But this is one dish we would return for.
When you're looking for a seafood restaurants in Austin, the choices can often be a bit pricy.  Instead try out the Dancing Seafood Plate at Thai Passion.  This dish is a seafood lover's delight.  Stir fr
ied scallops, shrimp, squid, New Zealand mussels, mushrooms, tomatoes and onions in Thai hot & sour (Tom-Yum) sauce. Served on a hot plate.
Finally here's a creation we haven't found at any Austin restaurants...  Pla-Sum-Rod.  This dish is made with delicious fried red snapper fillet, then topped with tomatoes, onions, lime leaf, mushrooms, bell peppers and basil in tamarind sauce flavored with Thai peppers.  NOTE:  The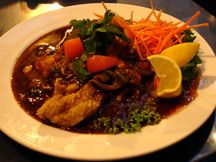 tamarind sauce is the key to this dish.  This specially imported fruit packs a flavor punch that will leave you wanting more.
We highly recommend Thai Passion to everyone.  Let us know what you think.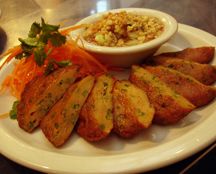 Thai Passion Downtown

620 Congress Avenue. Suite #105
Austin, Texas, 78701
Phone: 512.472.1244
Open every day
11AM - 3AM
Lunch Express:
Mon-Fri 11AM - 2PM

Thai Passion South
9300 South IH-35, Ste. A-400
Austin, Texas, 78748
(Between Wallmart & Sprint)
Phone: 512.382.0057
Open every day
11AM - 10PM
Lunch Express:
Mon-Fri 11AM - 2PM
Thai Passion North
9041 Research Blvd. Suite #150
Austin, Texas, 78758
Phone: 512.832.9722 
Open every day
11AM - 10PM
Buffet:
Mon-Fri 11AM - 2:30PM