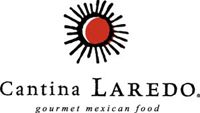 website and menu
Looking for a classy place for dinner in Austin.  Right in the heart of downtown Austin at the corner of 3rd and Colorado is Cantina Laredo.  The first one opened for business in 1984 and have been sprouting new locations in several states every since.  Their approach to Mexican cuisine is a little different from the norm.
Cantina Laredo serves you authentic Mexican food (with a modern flair) in a sophisticated atmosphere.  Which makes a nice contrast from the gazillion mexican restaurants you'll find in Austin and surrounding areas.  This would make a great place to take a date or celebrate a special occassion with family and friends.
It is a trendy spot in Austin, and the Mexican food they serve will likely bring you back for more.  We especially enjoyed the Camaron Poblano Asada, which is a Poblano peeper stuffed with shrimp, mushrooms, onions and Monterey Jack cheese, then wrapped in a Carne Asada steak and served on a bed of chimichurri sauce. (a mild and delicious sauce)  Excellent dish, (we love the sliced almonds topping the mixed veggies) this is the one we would be looking for on the return visit.
We would also recommend the Pollo Chipotle and the Cantina Laredo Platter.  This is a great plate for some of us who can't ever seem to make up our minds on which meal to order.  You'll get a taste of multiple items, it's plenty of food and all good.  This platter starts off with a Cheese chile relleno, (favorite on the plate) a tamale, a chicken enchilada and a beef taco al carbon.  "Al Carbon" means grilling over charcoal and is a Northern Mexico specialty.
It's a versatile menu for a Mexican restaurant with items like the Rasberry Spinach Salad to the Pescado del Dia the fish of the day and Crepes.  They even do Brunch with Crab Cakes Benedict, specialty omelets, Migas and more.
We highly recommend that you try Cantina Laredo, you will most certainly be thanking us once you do.  Enjoy.


Cantina Laredo
201 W 3rd St
Austin, TX 78701
(512) 542-9670

Hours:
Sun-Thu 11am-10pm
Fri-Sat 11am-11pm