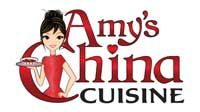 Menu
With the recent rush of restaurant choices at Cedar Park's 1890 Ranch shopping center, comes a delightful new addition to the Chinese food available in the area.
Amy's China Cuisine (formerly China Cafe), located directly in front of the Cedar Park Cinemark Theatre specializes in tasty Chinese and Vietnamese fare. And they have certainly perfected their craft. This, like other new Austin area restaurants has that trendy modern feel in the dining room, and delivers their food with a terrific presentation (especially for the price), all while assuring that once you have tried the food your repeat business is guaranteed.
You'll find Chinese restaurant favorites like Kung Pao Chicken, Twice Cooked Pork, Mongolian Beef, Sesame Shrimp, Fried Rice, Crab Rangoons, terrific Vegetable Egg Rolls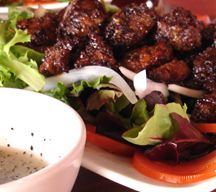 and plenty more. Plus a handful of Vermicelli choices and delicious house specialties like Coconut Curry Shrimp, Spinach Beef and our favorite... Shaken Beef. Oh yeah!
<------ Make SURE you try this dish. The beef is cut into a generous amount of bite sized pieces, well marinated and seasoned to create a very flavorful entree. Then it's grilled till the outside is slightly charred but still incredibly tender. It's then served on a bed of lettuce, onions and tomatoes with a side dish of their lemon pepper sauce. We HIGHLY recommend this one.
They also offer hot tea, hot soups and a great Vermicelli bowl. Speaking of which, the vermicelli is a terrific bargain. For $7.50 you get a large bowl of vermicelli, topped with your choice of protein, shredded carrots, cucumber, lettuce, bean sprouts, chopped peanuts and a side of fish sauce. If you like spicy food, then you just mix the fish sauce with the chile sauce and add as much kick as you can handle.
We would also recommend the Salt & Pepper Calamari, which is one very generously portioned appetizer. It's tossed with jalapenos and garlic and also served with the lemon pepper sauce. Calamari is one item that HAS TO BE cooked just right to get the right texture, and Chef Ming knows what he's doing.
If you love shrimp like us, you'll also want to try the Shrimp with walnuts. As a matter of fact, everything we have tried at Amy's China Cuisine in 1890 Ranch has been absolutely wonderful and we plan to continue trying other items on the menu. So go, catch a movie, and some good Chinese food. See you there.
Amy's China Cuisine
(1890 Ranch Shopping Center)
1335 E Whitestone Blvd
Cedar Park, TX
(512) 528-9963

Hours:
Sun-Thu 11a-10p
Fri-Sat 11a-11p