website and menu
You may have heard the old saying, "Don't judge a book by it's cover."? Here's a classic example of

the brilliance behind that saying. On Guadalupe just north of downtown Austin, there's a small "hole in the wall" restaurant that, (for some who don't know) would maybe be overlooked. But El Patio has been an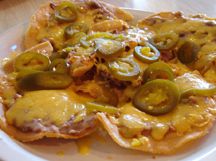 Austin favorite since 1954, when owner Paul Joseph, (a previous Austin restaurant owner) changed his Schoonerville restaurant to what it is today. These days the rest of the Joseph family carries on the tradition.
We've been eating at El Patio since we were toddlers. Back in those days, it was like a combination of an old school cafe and a Mexican restaurant. They served crackers and butter before your meal and had a simple and consistently great
menu. In fact, the waiter (Benny) was who usually took care of our family was our waiter for somewhere around 30 years until he retired. There are still familiar faces from years back and it will probably always be that way.
The restaurant has always had limited parking and lots of customers, but that never stopped our family from meeting there and waiting in line to eat. And now that the restaurant has been expanded there's still usually a wait, but it's inside.
The number one plate ordered by our family... the #1. This dish covers a little ground, starting with a salad plate that includes a taco, queso and a guacamole salad. Then on the main dish, two enchiladas, a tamale and rice and beans. They use home made shells which make this one a hit. We always order extra of the chips and queso. If you want a consistently good plate of Mexican food at a reasonable price, you'll be happy.
The food is always steaming hot, the family remembers who you are and the small town cafe feel is still there. If
you've never been to El Patio, you're not officially an Austinite just yet. So drop by and check it out. You'll be their newest life-long customer. Enjoy.
El Patio
2938 Guadalupe St
Austin, TX 78705
(512) 476-5955
El Patio Mexican Restaurant Information
El Patio
2938 Guadalupe St
Austin, TX 78705
512-476-5955
map

Categories:
Mexican
Hours:
Mon-Sat
11a - 9:30p

Price Range:
$7.50-$10.00
Drinks:
Beer Only

Live Music:
No

Patio Dining:
No
Gluten Free Menu:
by request

Buffet:
No

Delivery:
No