website and menu
Whether you're steppin' out for some lunch or dinner downtown or you've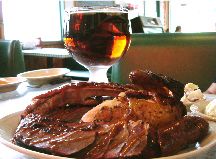 been at Barton Springs Pool all day, you should try out Green Mesquite BBQ near the corner of Barton Springs Rd. and Lamar Blvd or their newest location in South Park Meadows.
Green Mesquite BBQ is more than just bar-b-que though, they make burgers, chef salads, catfish, chicken fried steaks, chili, sandwiches, fajitas, desserts and more. In fact, their chicken fried steak is one of the best we've had anywhere in Austin.


You'll love the feel of this place, it's certainly a "true to Austin" restaurant. A very friendly staff who take good care of you while you eat there and the good times atmosphere will surely bring you back again. And they've been doing their thing for years.
Again we highly recommend the Chicken Fried Steak (for those of you like us, who are obsessed with trying it everywhere that makes it), and on the BBQ side of the house, those with a big appetite should get the 4 meat BBQ plate. This is good ol' Texas BBQ, and plenty of it. Good luck trying to finish all of this food. You'll choose from sausage, brisket (smoked for 16 hours), chicken, ham, turkey, pork ribs (mmmm), and pulled pork.

We also love their chopped beef sandwich and the sides. Some places really make the sides as more of an after thought... we thought the french fries, potato salad and the cole slaw were just as good as their meats. (top notch)
On Fridays, Saturdays and Sundays there's live music in their large outdoor dining area. So you can drop in and have a few cold ones, enjoy the shaded patio atmosphere and good times. The music is live but not LOUD. And the Sunday tradition at Green Mesquite is Blue Grass. Don't forget to leave the waitstaff a good tip. They definitely earn it.
Green Mesquite
BBQ & More
1400 Barton Springs Rd
Austin, TX
(512) 479-0485
Green Mesquite
BBQ & More
Southpark Meadows
Austin, Texas 78748
512-288-8300