website and menu

Dining out tonight? Hop over to the Hill Country Pasta House in Lakeway. As you exit your vehicle the aromas from their brick oven will invite you in, and the food will keep you there. This Italian
restaurant with a Southwestern flare has been an Austin favorite for close to twenty years.
We love the atmosphere at Hill Country Pasta House. This place feels appropriate for a first date, or to take the family for dinner. You'll find a healthy sized wine list and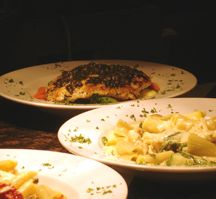 menu with a variety of choices to keep everyone at the table happy. You might actually be surprised at the versatility of their menu. Choose from Paninis to Brick Oven Pizzas, (even a Gluten Free pizza dough) salads, steaks, seafood and of course pastas.
One of our favorite little treasures in life? Fresh baked bread. We love a restaurant that
brings bread to the table before your meal, even more when it's baked fresh daily on location. Hill Country Pasta House has become somewhat famous for their fresh baked Foccaccia bread.


But try not to over-do it on the bread because the generously portioned appetizers and entrées are soon to come. We might suggest you try a fantastic Lasagna Bolognese with layers of pasta stuffed with Bolognese meat sauce, Ricotta, spinach, Romano and Parmesan cheese. Delicious. This lasagna is layered with flavors and should probably be accompanied by a nice glass of wine.



Another favorite of ours is the Coconut Crusted Tilapia. The Tilapia itself has a great texture and is loaded with flavor, but they don't stop there. It's served with wonderful home style mashed potatoes and veggies, then topped with a delectible crab cake, which is then topped with their famous Sweet Red Bell Pepper cream sauce. This dish is absolutely delicious.


If you're having a party you might want Hill Country Pasta House to cater it for you, or you might consider bringing your party to their Garden Pavilion which accomodates up to 300 people. This outdoor extension to the restaurant can be set up with everything you would ever need for a great party or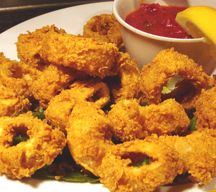 celebration right down to the bar and a stage for your band.

Speaking of which check out their events calendar on the website for wine tastings, live music , holiday meals & more. We love this restaurant and are certain you will too. Try it yourself... you can thank us later.




Hill Country Pasta House
3519 Ranch Road 620 N
Austin, TX 78734
(512) 266-9445

Hours:
Mon: 4pm - 9pm
Tues-Thurs: 11am - 9pm
Friday: 11am - 10pm
Saturday: 12pm - 10 pm
Sunday: 11am - 9pm