Website and Menu
Trying to dine on the lighter side? Vietnamese food is said to be the "light cuisine" of Asian dining. That's possibly the reason for it's wide

spread popularity in the United States and of course all across Austin.
These days you can find a Pho restaurant without looking very hard at all. What is Pho? Pho (pronounced fuh) is a Vietnamese soup that is as

much a part of their culture as anything could be. It's been said that the French influence on Pho is what led to beef becoming such a large part.
If you are in the mood for this food as well as other Asian cuisine... we recommend that you try out King Noodle and Sushi Bar in
Cedar Park. King Noodle is a classy, yet down to earth restaurant that serves many variations of Vietnamese and Japanese food. Both of these cultures specialize in blending different types of flavors to bring together one fantastic dining experience and King Noodle is no exception.
One of our favorites at King Noodle comes from the Vermicelli (Bún) part of the plentiful menu. The combination dish that comes with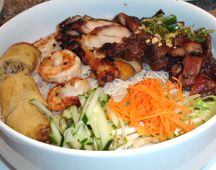 pork, chicken and shrimp. This dish is made with steamed rice and vermicelli noodles in a bowl with bean sprouts, chopped cucumber, lettuce, pickled carrot, peanuts and crispy fried onions and egg rolls. Excellent. And as light as it might be, we definitely leave the table feeling like we've had plenty of food.
If the Sushi part of the menu is what you're in search of... King Noodle's Sushi list is plentiful as well. There you'll find a large list of Sushi Rolls that are priced just right and will leave you in amazement at the works of art that can be created with your dinner.
As you scan the menu you can also a plentiful list of delicious appetizers, bento box, other soups, alcohol including Sake and other Asian drinks, and Vegetarian dishes.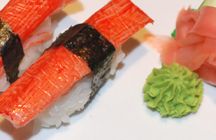 This is yet another of the locally owned restaurants that are helping to keep our community vibrant with the unique flavor that we've become famous for. So if you're in Cedar Park, drop in and give them a try.





King Noodle
500 Cypress Creek Rd
Cedar Park, TX 78613
(512) 219-0006

Hours:
Sun-Tue 11a-9p
Wed-Sat 11a-10p