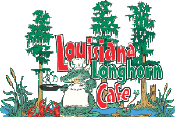 website
menu
How 'bout some authentic Cajun food made by people from Louisiana who know what Cajun food is all about? Check out Louisiana Longhorn Cafe (aka the LLC) near the corner of Main Street and Lampasas Street in historical downtown Round Rock. This popular family restaurant has been pleasing the palates of people in the Austin and Round Rock area for a little over 5 years now. It's a great spot to hang out, have drinks and good conversation without worrying about being "hushed".
If the term Cajun has you a little concerned about the food being on the spicy side, you'll also be happy to find out their way of making the food. It's "well seasoned, not too spicy" according to the restaurant owners Ray & Melinda Overstreet. And we agree.
In fact we loved the food. The sauces, gravy and just about everything else they make are hand made. We believe that's a definite ingredient for success in the food business. Even something as simple and taken for granted as tartar sauce, explodes with flavor when the LLC puts their own special touch to the creation.
You can't have a Cajun restaurant without a PoBoy and the LLC has it any way you want it. New to Cajun food? A PoBoy is an original New Orleans (pronounced n'awlins) sandwich on French bread. At the Louisiana Longhorn Cafe you choose the filling. (shrimp, catfish, oyster, crawfish, grilled or fried chicken) It's made with mayo, lettuce, tomato and one side.
One of our favorites was the Blackened Catf ish Etouffee which is fresh farm raised blackened and well seasoned catfish served over rice and a rich etouffee sauce. D-LICIOUS! Another top pick would be one of the several seafood platters they offer. Like the Seafood Platter, Crawf ish Combo, Catf ish, Oyster, Shrimp, served with cole slaw, hushpuppies and choice of red beans and rice or french fries. And the home style french fries are fantastic.
Aside from the expected Louisiana dishes like gumbos, etouffees, muffalettas, and alligator, they also make some Texas favorites like an enormous Chicken Fried Steak with a uniquely spectacular home-made gravy, Chicken 'n' Dumplin's, meatloaf, hamburgers, salads and a full bar. Make sure you save a little bit of room for dessert. There's something for everybody. And we recommend that everybody try Louisiana Longhorn Cafe at least once. And when you get there, make sure to ask... "How's yo momma 'en em?"
Louisiana Longhorn Cafe
200 E Main Ave
Round Rock, TX
(512) 248-2900

Hours:
Tues-Thurs 11am-8:30pm
Fri 11am-9:30pm
Sat Noon-9:30pm
Sun Noon-8:30pm
Closed Monday's for reserved parties.