website and menu
We found another terrific little Mexican food hot
spot. It's called Mariachis de Jalisco in Georgetown on Williams Drive. A noteworthy find for frosty Margaritas and top notch food. This is a simply good neighborhood restaurant with a loyal following of happy patrons.
Part of the appeal is the price of each dish. This neighborhood (family) restaurant's menu is priced to draw in anybody, on any budget. For example, their shrimp dishes range from about $7 to $9. You'll even find a T-bone for about ten bucks.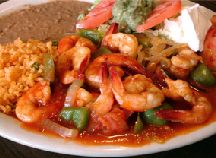 If you've read other reports of ours, you know we are seafood lovers and we really enjoy Mexican dishes that incorporate shrimp. Mariachis de Jalisco's "Camarones a la Diabla" was right on the money. (Spicy hot red sauce covered shrimp with salad, sour cream, rice and beans.) It's really hard to share this plate. There were lots of shrimp, but it's hard to stop yourself from eating more than your share.
Like Fajitas? We highly recommend the "Parillada Mixta" or mixed grill fajitas.
This dish comes in a single serving or a plate for two. What you'll get is a steaming iron skillet LOADED up with pipin' hot beef, chicken and shrimp. (Plus Charro beans, rice, pico de gallo and salad.) You know how good it is before you ever take the first bite... the aroma lets everybody in the place know how good it's going to be.
On the simpler side, a very common enchilada plate at Mariachis is made with cheese that will leave you wishing there
was one more enchilada on the plate. (go ahead, order it "a la carte")
Monday through Friday from 2pm - 6pm is "Happy Hour" so grab some friends and head out to Mariachis de Jalisco for some drinks, food and every other Thursday from 7pm to 9pm a live Mariachi band.
Mariachis de Jalisco
2803 Williams Dr
Georgetown, TX
(512) 868-5622

Mariachis de Jalisco
3100 Main Street
Taylor, TX
(512) 352-1700
Hours: 6AM to 10PM Daily