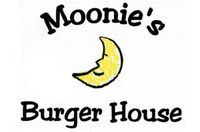 Moonie's Burger House Website & Menu
Imagine for a moment a sizzling hot burger comes directly from the grill and served on a fresh Hawaiin bun, topped with thick cut bacon, cheddar cheese, crisp lettuce, tomato, and onions. Then imagine this Bacon Cheeseburger is large enough that you'll definitely need both hands to eat it.
Stop imagining, that's exactly what we found at Moonie's Burger House in Cedar Park. Moonie's is our kind of burger house! It's a fun family atmosphere with simply great burgers. Plus it's a great place for a night out with the kids. Especially since all kid's meals come with a drink, Crispy Fries, and a snow cone.
On Thursday nights from 6:00 - 9:00, they have live classic country music, and of course 11 different types of burgers ranging from... the California Burger which is made with guacamole, bacon, and pepper-jack cheese, to the Hawaiian Burger made with pineapple rings and sweet teriyaki sauce. You can even get chicken instead of the burger on any of these choices.
Moonie's burgers are reminiscent of those grilled on a Sunday in the back yard, while watching the game, with all of the fixin's you need. (and we love the special buns) We also really enjoyed both the fries and the onion rings, but make sure you try the sweet potato fries.
We recommend that everyone in the group get a different kind of special Moonie's burger, and do some sharing. You'll be glad you did.


Moonie's Burger House
North Austin (NEW LOCATION)
12001 Burnet Rd.
Austin, TX 78758
(512) 837-5400

Moonie's Burger House
Cedar Park
200 S. Bell Blvd.
Cedar Park , TX
(512) 249-5214

Moonie's Burger House
Northwest Austin
13450 N Highway 183
Austin, TX
(512) 257-9000

Moonie's Burger House
Pflugerville
15803 Windermere Dr.
Pflugerville, TX 78660
(512) 670-7631

Hours:
Mon-Sun 11:00–9:00



Mon-Sun 11:00-9:00




Sun-Thurs 11:00-9:00
Fri-Sat 11:00-9:30




Sun 11:00-8:30
Mon-Sat 11:00-9:00