website and menu

What do you call a pizza restaurant with all organic and natural ingredients and a keen sense of responsibility to the environment, who actually makes a great pizza? Promise Pizza. This pizza restaurant located in Round Rock has all the ingredients to be the next Austin area pizza powerhouse.
Promise Pizza makes their delicious organic dough fresh daily. They top that with a variety of creative topping combinations, generously portioned and their home made organic sauces to serve up a winning finished product. We tried multiple pizzas at this place and loved every single one.
Besides a large list of specialty pizzas, they offer salads, custom pizza choices, natural sodas and other drinks as well as desserts. They also offer gluten free and vegan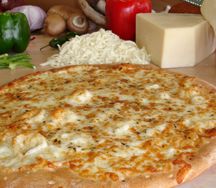 choices. (the vegan cheese is very good) And if you have your pizza delivered... it will arrive in one of their eco-friendly smart cars.
One of our favorite pizzas here... the Pizza Bianca (white pizza). This is one incredibly tasty pizza made with three cheeses, olive oil, garlic sauce and basil. Simple combination that makes fantastic pizza with a big punch in flavor. (You gotta try this one)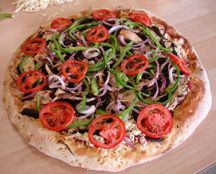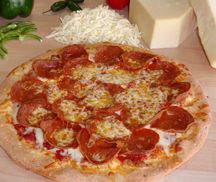 Also try the American Pie, we really love this one as well. It includes Promise Pizza's large pepperoni, portobello mushroom and italian sausage. The slightly sweet pizza sauce makes the perfect finish to this already delightful pie. We could probably go on and on about all of the different pizzas, but you get the picture.
You'll need to see for yourself. Our recommendation... even if you live in South Austin, make your way to Round Rock and try this place. We suspect that you'll be seeing more locations very soon, but don't wait. Enjoy.
Promise Pizza
1500 A. W. Grimes Blvd
Round Rock
(512) 674-2642
Hours:
Sun - Sat 11a - 9p