website and menu
Hey fellas... Are you searching for a hot
date spot? Take your honey to Vivo on Manor Rd, a couple of blocks east of I-35 or the Northwest location on 620 and LakeCreek Pkwy. These swanky Austin joints have great food, plenty of drink, a smooth ambiance and know how to treat the ladies.
Vivo has one of the best patio dining areas that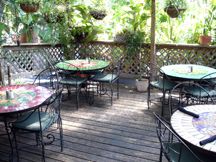 we've ever seen, with lots of greenery and shade. This tropical setting and party like atmosphere can sort of sweep your daily stresses away and let you lose track of time for awhile. You won't realize exactly what you're in for until you step inside, but this is not your average Tex-Mex restaurant.
If you are a Margarita lover... you will
be pleased to find out this place has tons of 'rita creations like mango, watermelon, strawberry, cucumber or one of our favorites, the Prickly Pear. Plus they have a full bar with over 60 different types of Tequila ranging from $10 to $160 per shot.
Then of course there's the food. One of our recommendations would be the Steak Jalisco. A beautifully presented dish with a tender, mouth watering
steak topped with grilled onions and a side of their cilantro garlic sauce. Don't skip the sauce. We wanted to put some on every bite of every dish we had. (you gotta try this sauce)
Vivo is also one of the only places around Austin that makes puffy tacos. You can custom order these... get 'em with beef picadillo, shredded chicken, beans, guacamole or even tofu.
Another favorite of ours is the Chicken Enchilada Plate. These are served with their signature vegetarian sauce, jalapenos and Vivo's secret spices. Absolutely delicious meal. All of their enchilada plates come with homemade sauces, whole grain brown rice and beans.
Vivo takes pride in making the women smile too. From the single rose they hand every woman as they go, to the fantastic decor (even in the bathrooms) that makes this sexy, sultry restaurant a fun/romantic release from every day life. You must, at least once pay this restaurant a visit.
Vivo East Austin
2015 Manor Rd.
Austin Tx 78722
512-482-0300
Hours:
Mon - Thurs 10a - 11p
Fri - Sat 11a - 10:30
Sun 5p - 9p