Wildfire Georgetown, TX

   website and menu
 
If you live anywhere in Central Texas... Here's a fantastic dining spot that's worth making a trip for.  Wildfire on

the downtown square in Georgetown, Texas is definitely one of our favorite places to eat.  This classy joint offers a versatile menu with something amazing for everybody at the table.  In a small town like Georgetown, you might not expect to find a restaurant with such a sophisticated take on food, but nevertheless here they are.
You'll choose from steak, poultry, seafood and other fantastic menu options like lamb, duck, elk and more.  One thing you might like to know about Wildfire is that everything on the plate is good.  To make the point clearer...  take for instance their Flame Kissed Stuffed Shrimp.  We've had some variation of this dish at lots of restaurants across Austin and surrounding areas, and sometimes the underlying elements of the plate are just average.  But with this dish, we loved
every last bite.  The jumbo shrimp are wrapped in delicious bacon and set a top Pepita wild rice, tequila veggies, pico de gallo and their roasted garlic Cascabel sauce.  Seriously, they knocked it out of the park with this one.  (You gotta try this!)
If you're not much of a seafood person... no worries.  Make sure to try the Flame Seared Australian Rack of Lamb.  Just recalling our memories of this dish, gets us all misty eyed!  Once again, Wildfire gives an incredible amount of "Attention to detail" to each and every element of the dish.  After taking in the beautiful presentation, the lamb will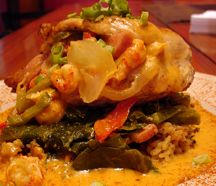 make you wonder why you haven't been eating here already.  It's served with a 72 hour demi-glace, gorgonzola mash potatoes and garlic spinach.  The dish is then garnished with their prickley pear cactus and mango relish.  (Splendid creation!)
We could go on and on about every dish we tried here.  It's safe to say that we will be back for multiple visits to try everything on the menu.  Wildfire also offers their happy customers three different dining areas
including a full bar and an overall cozy setting.  We highly recommend that you try this restaurant.  No, we insist that you try it.  And when you're done eating your meal, make some room for dessert you will love the Bananas Wildfire.  You probably won't have much room, but at least share this.  We loved it right down to the caramel bowl. 
Afterward, feel free to send in your emails of gratitude for the hot recommendation.










Wildfire Restaurant
812 S Austin Ave
Georgetown, TX 78626
512-869-3473
map

Categories:
American
Hours:
Mon-Sat
11a - 9p
Sunday Brunch 10a-3p
Sunday Dinner 3p-9p

Price Range:
$14.00-$30.00
Drinks:
Full Bar

Live Music:
No

Patio Dining:
No
Gluten Free Menu:
by request

Buffet:
No

Delivery:
No